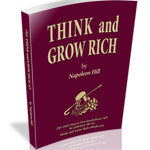 Napoleon Hill's "Think and Grow Rich" is probably the mother of all wealth creation books which seems to be the inspiration of many best selling books on the subject.  As I went through the chapters, I couldn't help but recognize similar principles described in books like The Secret.
In one of the chapters, the author lays down 6 steps to financial success.  With Internet technology and everything electronic, I foresee some difficulty (especially with the younger generation) in following these steps. 
Read more about Hill's Six Steps to Success and bring yourself closer to financial freedom.  The e-Book is free to download using an external link. There's no catch. The people behind the free offer are passionate about sharing their ideas and look forward to having more visitors drop by the site.