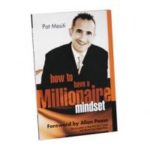 "We will never change what we consistently tolerate." –Pat Mesiti
Discontent can be the fuel of success. Oftentimes, what separates those who succeed from those who don't is discontent.  A mere desire to succeed is not enough.  You must be dissatisfied with where you are and have a clear idea of where you want to be.   
You attract what you tolerate. 
Oftentimes, you may accept things as they are rather than what they should be.  Acceptance also brings tolerance.  As you tolerate some things in your life, you may find yourself constantly navigating around those things by making excuses for being the way you are.  
Change can only happen when you refuse to tolerate what you dislike.
When you really dislike something, you should refuse to tolerate it.   Instead of going with the flow, start new habits and behaviors while adopting new ways of thinking. 
Success is not a one-time event.
It should be a continuing goal for you to experience real changes in your life, and eventually, prosperity.  Notice how athletes work hard daily to beat their personal best records.  Their skills are don't just happen overnight, and they don't stay champions without daily practice.
Successful businesses as well depend on constant innovations not just to stay ahead of the competition but also to maintain their standing. 
Life should not be any different as it is in constant motion.  To live a good life, you need to work on it, make some changes or improvements– constantly.
Break old habits.
Dissatisfaction over your current situation should motivate you to change.   Being contented can make you complacent.  But if you want real change, you need to open your eyes and acknowledge that some things are not as good as they could or should be. 
Why wait for things to reach a crisis point before deciding to change?  
In his book, How to have a Millionaire Mindset, life coach and mentor Pat Mesiti explains that the millionaire mindset is all about prosperity.   While most life coaches teach prosperity as a goal, Pat adds that it should be much more than that.  If you want to have a millionaire mindset, you need to view prosperity as a journey, not a destination.  Decide that "good enough" is no longer good enough for you.  Pursue the best in every area of your life, not just occasionally, but constantly.