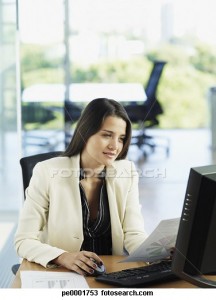 Dressing for success is as essential as having the right skills, positive mindset and perseverance.  Any woman can have clothes style—the challenge is developing it.  And this does not necessarily mean buying designer labels, going to high end shops and wearing expensive clothes although you still have to invest time, money and effort in developing your own clothing style.
 What is Style?
 Style is the image you project using clothes, color, hairstyle and accessories.  While  magazines, celebrities and fashion icons can influence style, the right one for you should consider your :
needs
lifestyle
body type
 Key Elements of Style
 Hairstyle
 Well-groomed hair that is styled and cut in proportion to your face and figure draws immediate attention and helps create a good first impression. Unlike buying the wrong outfits, you can't easily grow out a bad haircut or wash off the wrong hair colour so it makes sense to invest in expert advice on which hairstyle works for you as well as in a good hair stylist.
 Color
 Color is a powerful tool for drawing attention to your face.  It is skillfully used to make one appear taller, slimmer, younger, and more vibrant and feel confident.  Your skin tone (whether warm or cool) will determine the best shade for your hair color, make up and clothing. 
Style tip: Build a basic wardrobe by buying a few pieces in solid neutral colors such as grey, black, navy, taupe, brown and beige as these go well with white and accent colours.    
 Clothes
Fashion trends may change with the season but this does not mean changing your entire wardrobe frequently.  In fact, stylish women maintain a basic wardrobe consisting of pieces that don't go out of style.  These include the following:
A dark well fitted jacket
Quality white shirt/s
Black straight legged pants
Dark skirt in a flattering style
Simple tops
Black shoes
 Accessories
 Accessories not only reflect your personality but are often used to update your basic wardrobe if you use trendy pieces. When jazzing up your clothes style for work, use the best quality accessories that you can afford to achieve an elegant look.
How you project yourself using your clothes style can affect how others perceive your capabilities. Visual impressions should not be left to chance. Developing your style can take time, money and effort but it will have effective results.